Meet Thor! Sadly, this handsome guy isn't able to stay in his current foster home for much longer, so he will be headed to boarding soon. He's not the kind of pup who will do well boarding so he's looking for a hero to swoop on in and foster or adopt him.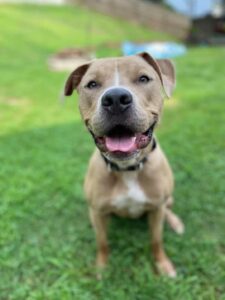 "Hey there, I'm Thor! I don't come with a mighty hammer, but foster mom says I'm just as strong as my namesake. She says I'm a "bull in a china shop," whatever that means. But I sure do bump into things a lot! I'm still a young pup, and apparently I'm pretty big and don't know it. Foster mom says I have something called "FOMO," which I think means I don't like being left out when fun things are happening. I like to be where the action is! One thing I do know about myself is BALL IS LIFE. I love to play fetch! I sit and wait for foster mom and dad to thrown the ball for me, and I get a little impatient when they don't. But foster mom says it's because I still have the ball in my mouth and won't let go! I'm working on that. But I also like to throw the ball for myself. I'll drop it and then chase it when it bounces away. So much fun! I get really excited when I see other dogs, but I haven't been around them a lot and I don't always understand how to play with them. Foster mom hopes that her two dogs will help me learn, so I'll report back on my progress. I'm learning how to hang out in this thing called a crate, but I don't always like it. I'll nap for a while, but I don't like hanging out in it all day. I'm also pretty good when foster mom leaves me out in my room for a few hours. The crate is still my favorite place to snooze when I'm hanging out in the room by myself. I try really hard to be a good boy, and I know sit, down, stay, place, crate, and I'm working on shake! Foster mom says I'm super smart, but a little hard headed. I'm looking for my forever home, and I think I'd like a place that's pretty quiet, but where my humans like to play and go on adventures. I'd also love to be able to snuggle at the end of the day. Looking for a good, sweet boy who's goofy and always ready to party? I'm your man!"
Thor's ideal forever home: Quiet home, fenced backyard for lots of fetch, no young children, calmer older children/teenagers okay. He would prefer to be the only pet in the home. He will need continued training, needs someone dog savvy who will create boundaries and stick with them. He's rambunctious but responds REALLY well to training, discipline, and consistency. He can be alone for long periods, but will need exercise when his people are home. He may eventually be a great running or hiking partner if the adopter is willing to work on leash reactivity. He's naturally pretty vocal, so no apartments or townhomes.
He does great with his current foster parents' home with crate and rotate situation, so if someone in NC is willing to foster him, Merit would be eternally grateful and would cover costs.
Adoption and foster applications are available on https://www.meritpitbullfoundation.com/